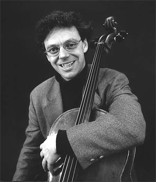 JULIUS BERGER (VIOLONCELLO)
vermag sein Publikum an einer wirklichen Sensation teilhaben zu lassen: Er spielt eines der ältesten Celli der Welt. Hinter diesem schlichten Satz steht eine Musikerpersönlichkeit, die sowohl in der Welt der klassischen als auch der zeitgenössischen Musik zuhause ist. Auf beiden Gebieten gilt Julius Berger als Meister. Sein hohes Können und sein Vermögen, die Werke großer Komponisten nicht als musikalische "Interlinearübersetzungen" vorzutragen, sondern mit der größtmöglichen Nähe zum Original jeweils auch dessen Spiritualität zu erfassen, trugen dazu bei, dass man, wenn dieser Künstler auftritt, nicht einfach nur ins Konzert geht. Man hört Julius Berger zu, vergisst die Zeit und kehrt nach Jahrhunderten zurück, möglicherweise bereichert um die Erfahrung, weshalb man auf der Welt ist und was man in ihr zu suchen hat.
++++++
Born in Augsburg in 1954, Julius Berger studied at the Musikhochschule of Munich, Germany under Walter Reichardt and Fritz Kiskalt. Later, he studied at the Mozarteum in Salzburg, Austria under Antonio Janigro (who´s assistant he became from 1979 to 1982) and at the University of Cincinnati, USA under Zara Nelsova and on the occasion of a master-course under Mstislav Rostropovic.

With 28 years Julius Berger was appointed to the Musikhochschule Wuerzburg and was one of the youngest professors in Germany. Starting in Wuerzburg, later in Saarbruecken and Mainz, and since 2000 in Augsburg, he took efforts to promote the top new talents in his subject. Since 1992 he leads a class at the international summer academy at the Mozarteum Salzburg.
Julius Berger devotes a big part of international concert and recording works to the rediscovery of Luigi Boccherini´s complete works, the performance and CD edition of the works for violoncello and pianoforte by Paul Hindemith, the works of Ernst Bloch, Max Bruch, Richard Strauss, Robert Schumann and Edward Elgar.
Julius Berger is known for his great commitment of contemporary compositions. He published remarkable CDs, that are known all over the world, featuring the works of John Cage, Toshio Hosokawa and Sofia Gubaidulina.
Tours and concerts have brought him together - in music and in friendship - with people like Leonard Bernstein, Eugen Jochum, Gidon Kremer, Paul Roczek, Margarita Hoehenrieder, Siegfried Mauser, Joerg Demus, Norman Shetler, Pierre Laurent Aimard, Stefan Hussong, Olivier Messiaen, Sofia Gubaidulina and Wolfgang Rihm. Moreover, Julius Berger works as art director of "Eckelshausen Music Days" and the "Asiago-Festival" in Italy.
He led the international Leopold Mozart competition in Augsburg as president. For the "Studienstiftung des Deutschen Volkes", Berger became trusted tutor several years ago. He is also a member of the permanent musical selecting commission.
Working as a juror for some years, Julius Berger got to visit the competitions in Salzburg (Mozart), Kronberg (Casals), Markneukirchen, Munich, Warsaw and many more.
Since 1989 Julius Berger is member of the musical faculty of the Guardini Foundation in Berlin, since 1997 elected member of the central commitee of German catholics.
Julius Berger plays one of the oldest celli of the world, the Violoncello Andrea Amati of the year 1566 - "King Charles IX."